As a civil service attorney with more than 18 years of experience, I have successfully helped many of my clients win their NYPD disqualification appeal. I can help you too.
RECENT CLIENT REVIEWS AFTER SECOND INTERVIEW:
March 23, 2021 – "I was found psychologically qualified after a second interview with the help of Kevin Sheerin… Thank you so much Kevin Sheerin…"
Vijay G.
February, 2021 – "Kevin Sheerin helped me prepare for a second interview which I passed! Always attentive, caring and responsive. Completely recommend!"
V.V.
February, 2021 – "Mr. Sheerin is by far the best… I have had an overall great professional experience, and he never gave up hope for me… 1000% recommend!"
Emmanuel C.
January, 2021 – "I was on dreaded psych review for over a year and could not get an answer from my psychologist about anything. After waiting for such a long time I turned to Kevin and his team for help… Kevin was able to get me my NOPD and immediately… appeal it. After repeating the psychological I was found to be qualified to be a police officer. I'm now in the NYPD and happy with my career. If you hire Kevin you won't regret it!"
Connor O.
August, 2020 – "My experience with Mr. Sheerin was great from start to finish. I contacted Mr. Sheerin when I first got my NOPD, and he got to work right away. With his help I was able to thoroughly prepare for my second interview with the NYPD, which was a success."
Anthony R.
March 24, 2020 – "Kevin helped me get my disqualification reversed after a second interview."
Anne L.
March 11, 2020 – "I was disqualified and got a second interview and prepared with Kevin Sheerin in his office and my disqualification was reversed."
Jeff J.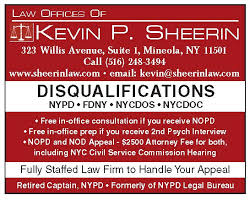 If you have questions about your Disqualification and would like to schedule a free consultation at my Mineola office please feel free to call me at 516 248 0040 to discuss your appeal.
Email: kevin@sheerinlaw.com
Website: www.sheerinlaw.com
Blog: civilservice.sheerinlaw.com
Facebook: Law_Office_of Kevin_P._Sheerin
Twitter: @DQLawyer

nypd psychological disqualification appeal / nypd disqualification appeal lawyer / nypd psych appeal success rate / nypd psych disqualification reasons / nypd disqualification list / appealing nypd psychological / nypd nopd appeal success rate / nypd character disqualification