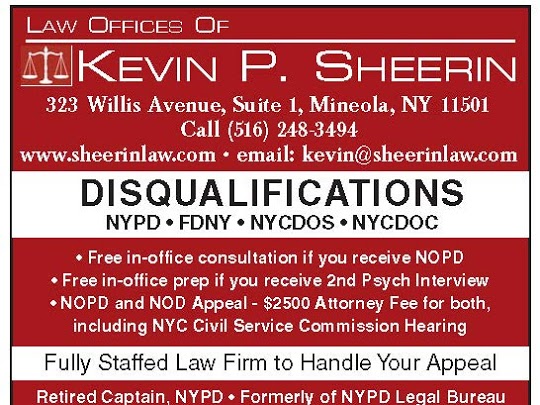 If you receive a Psychological Notice of Proposed Disqualification (NOPD) from the NYPD, you have 30 days to decide whether or not you would like to appeal.
If you do not take action, this disqualification will most likely affect your chances of being hired by other law enforcement agencies.
The good news is that the NYPD has begun a second psychological interview or a NOPD interview for some candidates that choose to appeal.
This second interview occurs at a different location and with a different psychologist from the first NYPD doctor that interviewed you. Based on the initial doctor's interview and your expert or MHP – mental health professional's report, this interview with a different NYPD psychologist has led to many people successfully getting their Psychological Disqualification reversed before having to appeal to the Civil Service Commission. This is very good news for candidates, as you may succeed by appealing your original NOPD disqualification.
RECENT CLIENT REVIEWS AFTER SECOND INTERVIEW:
November 1, 2020 – "Kevin helped me in my appeal and my disqualification was reversed after a second interview… now I'm going in to the NYPD class of Nov. 2020… The process went really fast and the experience was great!"
Steven G.
March 24, 2020 – "Kevin helped me get my disqualification reversed after a second interview."
Anne L.
March 11, 2020 – "I was disqualified and got a second interview and prepared with Kevin Sheerin in his office and my disqualification was reversed."
Jeff J.
August, 2020 – "My experience with Mr. Sheerin was great from start to finish. I contacted Mr. Sheerin when I first got my NOPD, and he got to work right away. With his help I was able to thoroughly prepare for my second interview with the NYPD, which was a success."
Anthony R.
If you would like to schedule a free consultation at my Mineola office please do not hesitate to contact me at 516 248 0040
Email me: kevin@sheerinlaw.com
You can visit my website www.sheerinlaw.com
Read my blog about Civil Service issues: civilservice.sheerinlaw.com
Facebook: Law_Office_of Kevin_P._Sheerin
Twitter: @DQLawyer
nypd psychological disqualification appeal / nypd disqualification appeal lawyer / nypd psych appeal success rate / nypd psych disqualification reasons / nypd disqualification list / appealing nypd psychological / nypd nopd appeal success rate / nypd character disqualification